Posture: The Long and Winding Road
In this comment I promised readers a posture guide. That guide is now on hold for good reasons, which I am about to explain.
Firstly, if you are a writer and creator of materials, my primary piece of advice is to not begin writing something before you have fully tested it to success on yourself. I have written many pieces, or started to write them, before fully realizing those results for myself. One good exception is my work on concentration meditation, which has remained stable, much like its fractal parent, concentration meditation itself, which conditions a state of stable awareness.
Posture has been a very long road for me. I have now been at it for four and a half years. It is an unstable topic, in that new discoveries render entire previous concepts immediately invalid. An example is Esther Gokhale's various methods. If you try her shoulder roll, but literally cannot make the physical movement all the way back due to shoulder immobility (usually via computer use), a good idea is rendered useless. It turns out that, if you have truly "primeval" posture, shoulder rolls themselves are completely superfluous, as your shoulder is already seated in its correct position. Thus we become aware of "compromise methods", which Gokhale Method, Alexander Technique, and most posture and movement guides indeed are. They are layman's compensations for a lifetime of error.
That's not to say I have anything better. The truth is, this whole area is largely a tactical retreat. If you want good posture and muscle function, go back in time to before you ever sat at a desk. The conditioning began there, and it is truly terrible. I am about to explain why, but for now you have to understand that there is NO straightforward fix for accumulated muscle habits. It is reversible, but not in a way you're likely to appreciate nor understand upon first investigation. That's not an insult to you, either — it really is just an incredibly tough, frustrating topic which does not lend itself well to intuitive thought. I will nevertheless attempt to explain exactly how to achieve such a goal (though you never will, because you will be "unwinding" literally thousands of "wound" muscles for eternity — though you can make progress).
---
Yawning
When I promised to write the guide, I had just figured out a technique for muscles and posture correction which had never before been seen: yawning. In fact, I was surprised to have not seen it anywhere before, even in the de facto muscles manual by Thomas Myers.
For centuries, man has struggled to determine the true purpose of yawning. I can now say with good certainty that most of those proposed reasons are total hogwash.
The real purpose of yawning is as a "release catch" for fascia, and thus muscles. Yawning sends a "release" signal to fascia, which then immediately relaxes the muscles and facilitates stretching, hence why the two are always coupled in animals. (Fascia is the "control system" for muscles, which is really annoying when you find out how it ruins everything further down the line.) Yawning's "release catch" happens via the following two mechanisms:
A light REM burst during the in-breath. (Look out for it)
An "electrical current" sensation applied to the muscles, particularly to the base of the spine — the "centre of the organism" — during the out-breath. (Look out for it)
These things are quite easily noticed during the act if you just pay attention. There — another centuries-old scientific mystery revealed. I almost feel like asking Brian Cox if he's ever noticed that time doesn't actually exist beyond his equations, and that this is the reason why timelines appear to overlap at high velocities — but it would probably fry his grinning brain.
When I began writing the aforementioned posture guide, I had just noticed that yawning could be used to release muscles. Unfortunately I began writing the guide before properly putting the technique through its paces.
I found that by standing in various poses and yawning, muscles released into preferential positions. I am not going to tell you what those poses are, due to what happened next.
Muscle Pockets
Muscles are supposed to sit in pockets, which are determined by fascia. Fascia is your "connective tissue", kind of like a grid determining where everything is meant to be within your body. Here is what Thomas Myers has to say about it:
There really is only one muscle; it just hangs around in 600 or more fascial pockets. We have to know the pockets and understand the grain and thickenings in the fascia around the muscle – in other words, we still need to know the muscles and their attachments.
I imagine it being a bit like the Batman suit in the newer movies: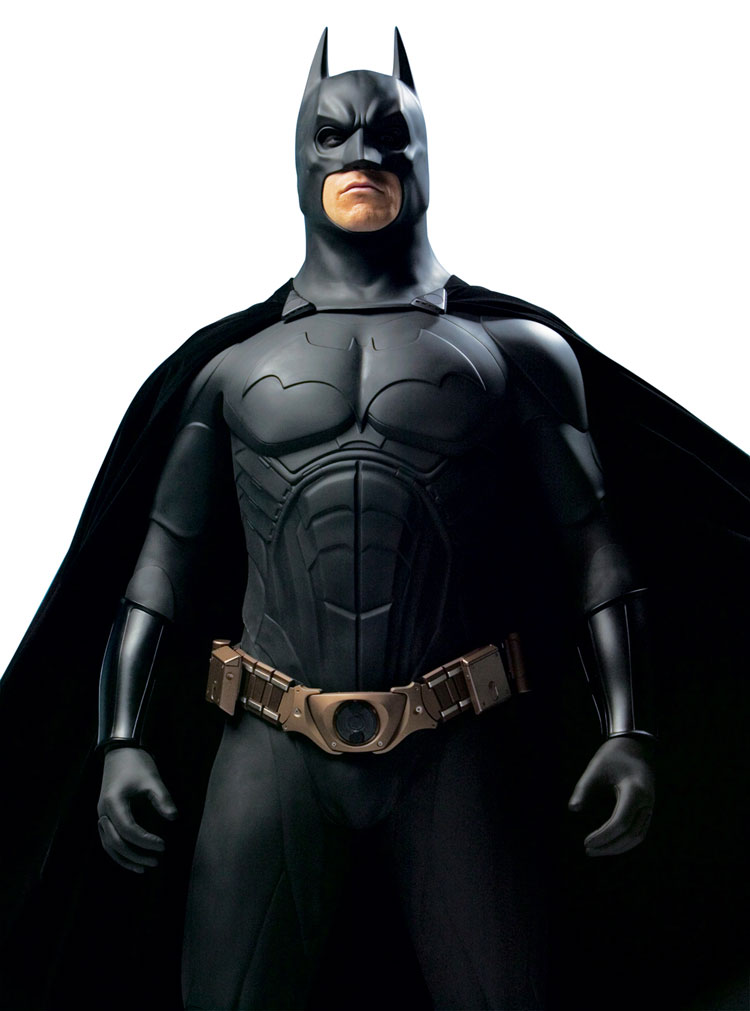 There are clear "pockets" in which everything is meant to sit. It turns out that this true for your muscles in reality. In fact, through years of sitting at a computer, your muscles can actually move outside of their "pockets". This is no longer an analogy: there are pockets, and muscles are supposed to be inside them. Chances are, if you're from the lazy West, many of your muscles will have drifted from those pockets. In fact, the Flex & Rotate method only works on drifted muscles — hence why some of you reported no spontaneous muscle rotation. Muscles only rotate to get partially back into their pockets. If a muscle is seated correctly in its pocket, it literally does not rotate upon flexion. True story. I only figured this out once some of my muscles got reseated.
This "pocket" model is a literal fact, which is one reason why posture is kind of a disturbing subject if you get into it seriously — and why the "solutions" are equally disturbing.
I discovered, just from personal experiment — and some apparent "insight" into the weirdness of the human condition — that yawning could actually send a "reset" signal to fascia and enact a spontaneous relaxation and repositioning of muscles.
In fact, by standing in certain poses (which I won't describe now due to what happened next) and yawning, I found I could fundamentally reset major muscle groups into their "default" position.
This was chaotic. By simply placing my hands behind my shoulders so I resembled a kind of "wing" formation (this shape left intentionally vague), and yawning several times, I suddenly found my abdominal fasciae sending "reordering" signals to my abdominal muscles. I felt this literally happening in real time, but tried to ignore it.
I sat down and got on with some work. When I stood up, my abdominal muscles spontaneously moved upward and "snapped" back into their abdominal fascial pockets.
This felt like a bowling ball being dropped onto my chest. Or maybe what it would feel like to be shot.
It didn't overtly "hurt", but it was a real, tangible movement of muscle mass — and it turns out the body doesn't like that. In fact, it recognizes such movements as a serious injury.
The biological response to such a large-scale sudden movement of muscle mass was total systems shock — adrenaline, numbness, dizziness, "throat closing", and general panic. I am really glad I am a meditation expert and have developed huge control over things like the panic response, because this was one time I really needed that.
Imagine getting punched in the stomach. You begin breathing deeply because this moves the muscle rhythmically and tells the central nervous system where everything still is.
Now imagine breathing deeply, but finding the muscle is now in an upward position — which has emotional correlations with "tension" — and that it just stays there, and nothing you can do can enact a "relax" response to move that muscle back down.
Why? Because it has literally moved anatomical position.
It takes the cerebellum (and then, noticeably, the right brain) some time to "remap" the muscle to its new position and adjust the emotional responses in respect to that.
In fact, the new (correct) positioning lent itself to an extreme shift toward emotional stability. It turned out that the wild flexing of the stomach muscles I had previously experienced — which my emotional systems perceived as distress and anxiety — was actually the "will" for those muscles to return to their correct location (about half an inch north of where they previously were).
Now the muscles are in their correct place, any emotional stimulus I "don't like" results in a solid tightening of the abdominal muscles in their correct location. I can tap those muscles with my finger and it makes a clear "bongo drum" sound. Before, it was more like a soft clay sound. Importantly, this emotional response now feels strong and capable, whereas before it felt flailing and weak. It is like I literally have a sheet of solid steel armour there, where before there was nothing.
I am so sorry — I am not going to give the tech clearly, because the feeling that one has been shot in the gut is so paralysing and distressing that I would not wish it unexpectedly upon my worst enemy, let alone the readers of my blog. I literally lay down for an hour, debating whether or not to phone an ambulance. I didn't know what was happening, and there was no recourse.
In a later yawning, when my left arm moved half an inch to the rear of where it started out, I literally went to the emergency room. The doctor told me there was nothing physically wrong with me, it was all in my head, and not to bother him again. My arm moved so much (partially as a result of knot removal — see later section) that my body "lost" it. It felt like literally the arm no longer existed. I was calling people up asking if they thought my arm might be dislocated. This effect just vanished about a day later. You couldn't make up what tricks the mind plays on you when such events have played out. You might think I sound insane — and I am — but this method I've developed corrects issues so quickly that at times the body cannot keep up.
This is a "real deal" tech, which drastically alters one's physiology in a matter of moments. I am purposefully not subjecting you to it. I have felt entirely better for it — eventually — and will post up new pics of what I've been able to achieve, once I've lost a bit of weight from all the non-training I've not been doing (it turns out that weight training adds layer upon layer of problems if you don't know what you are doing, hence why I stopped. Have you ever seen a weightlifter with good posture? Now I know what I'm doing, I can actually start to lift weights again.)
Fascia
Here is what the "Father of Fascia" (I've just made that up), Thomas Myers, has to say about fascia:
Myers has shone light where before there was darkness. He reminds me of me: he sees what's right in front of own nose. However, he has the advantage that he can actually be bothered to write up his findings.
For now, it's back to me.
Are you a hardcore computer user? Touch your opposite shoulder, around near the collarbone. Do you feel tough, leather-like skin? This is where the fascia has literally "wound" itself into various spirals and other circular patterns, in accordance with your regular computer use.
It doesn't sound like a big deal, but it is: Fascia literally controls the underlying muscle movement patterns.
That muscle might look to you like it's just sitting there, waiting to be "moved" by "you" — but the reality is far different: Its movement is controlled by the looped-over layers of "skin" that is the fascia.
You have conditioned that fascia into those layers. That is how you end up with "crooked shoulders" (mouse hand different from keyboard hand) and, ultimately, rounded shoulders and other postural deformities.
"Just stand up straight!"
Yeah, you might be able to hold that for like 6 seconds, but you have conditioned your muscular system into a bizarre crooked computer hunchback pose. Esther Gokhale's methods cannot scratch the surface of this mess. I'm so sorry. Welcome to my last four years of hell.
Thomas Myers advocates tearing apart adhered layers of fascia in order to regain freedom of movement:
I personally found that, in the mirror opposite style of purposeful tissue destruction, myofascial unwinding can be taken to its extreme — requiring many hours of practice — in order to "undo" severe postural problems. Here is one scientist's take on the practice:
Therapists use an induction process to initiate fascial unwinding in a client. The client responds to the induction with spontaneous bending, rotating, and twisting of the upper or lower limbs or the whole body in either a rhythmic or a chaotic pattern. This response can be thought of as a spontaneous expression of movement. The phenomenon of unwinding, in which parts of the body move spontaneously and involuntarily, can appear mystical, and yet its therapeutic effects are known both anecdotally and clinically. These effects, however, are not well reported.
Firstly, let me just say to you, that, like every other science paper I've ever read on anything, if that cunt actually understands what he's seeing then he sure as hell cannot report it within the guidelines of the "system" he is required to write under. Scientists can't report what they see because their whole system is set up to turn them into mindless binary computers and morons creating relationships from thin air via a linear system which encourages lazy, modal thinking. Science thinks it's great, but in reality it is a system to help morons make themselves look like they're clever and like they've "really, truly discovered something", and has resulted in such catastrophes as "global warming" (wobal glorming), the biggest scam to hit humanity since socialism. Like The Streets, you're nothing but lazy words and shitty beats.
I discovered myofascial unwinding myself — before finding out it was a "thing" — via synaesthesia. The windings of the fascia (and thus muscles, since fascia controls muscles) appear like contour lines around my limbs, literally visually. I can still see the entire workings of my musculature system, visually, and have used this to instruct my massage therapists to remove severe knots caused by various injuries over the years.
When you hold your arm out on the mouse for an extended period, you never release that pose like nature demands. Nature has a really specific pattern for "thrusting arm forward" — meaning the opposite leg will also extend, and the other limbs will take on opposite positions. When you withdraw your arm, the other limbs will sympathize in their respective patterns. This is completely normal movement, and is what tai chi helps to restore.
When you sit on a computer, however, there is no sympathetic movement of opposing limbs. Your mouse arm winds, and the opposite limbs twitch, but the true form is never obeyed. Thus, your extended arm is kind of "frozen" in that shape, and fascia and muscle is trained into a pattern to support it. If you develop synaesthesia, you can literally see these patterns like contour lines on a map. Don't do this — it it highly distressing to see how much of you is still left to "undo". I literally see winding snakes or cable-like structures throughout my body. For Eight-Circuit Model fans, this is textbook Circuit V. Heil Anton Wilson! Unlike Bob, however, I literally believe I could have cured my polio — because my Circuit V imprint is so strong I could have literally seen and "undone" the anomalies. This is exactly how I've ended up sorting out my posture over the years (and developed a bizarre Circuit VI reimprinting tech via such pathways). This is a real side-tangent, but Bob smoked dope until the end without ever truly imprinting Circuit V. You can imprint Circuit V if you learn the lessons that are presented to you while on weed. The biomechanics of the body are perhaps the most straightforward presentation made synaesthetically while on marijuana. Start doing yoga and let it lead you, while paying attention to the visual field in front of you and what "pops" into it. Be alone, begin to observe — and get a notebook if you're into that sort of thing.
Because you are flailing your wrist around habitually while sat at a computer, and because the opposite-and-complementary limb retractions and extensions are blocked, your fasciae begin to wind. By the time you have been using computers for 10 or more years, you have perhaps 10,000+ windings. They go into your neck (in a huge way), and pull muscle fibres from your arms into your torso (which must then be "reclaimed"). These windings are demonstrable via video. I still have several hundred and am willing to film it if demand is high enough — and the bizarre Circuit V technique which allows me to find them and pull them back to where they're meant to be.
These fascial windings are half by accident, half by design: YES they distort the limb and compromise its general function, but YES they also provide strength via extra muscle assimilation towards that function.
You are doing the exact same thing via weight training, but lifting weight tends to be a far more simplistic and straightforward fascial conditioning. The real problem with computer use is the freedom of the shoulder: it allows rotations in 360° × 360° spheres. This allows muscles to "loop" and, eventually, form the hunchbacked computer nerd that stares back at you chillingly from the mirror. 🙁 This was me five years ago — now I have dead-straight posture, and photos will follow soon — but much grief was experienced on the path to undo such windings — namely, figuring out that such windings were what were taking place, since you can't actually get that straight answer from anyone you ask. Seriously, try asking someone about this stuff, especially "experts" — they literally don't know what they're talking about, which would be funny if it didn't cost you.

Thomas Myers, based on the video I shared earlier, appears to support fascial tearing to regain range of motion from such "windings". Having unwound 9,000+ fascial windings — and been bored senseless by it, and questioning if whether such a method could ever truly be taught — I have come to ask myself whether perhaps just tearing the fascia (and letting it heal afterwards — the one good thing about the muscular system is that it is highly regenerative) might be our "shortcut" through this mess. Well, I don't actually know Thomas's exact teachings in this area, so have ordered his book and DVD to learn what it is he actually does.
Until now, my approach has mainly centred around maintaining as much structural integrity as possible without sacrificing anything — so I have tended to focus upon myofascial unwinding, and my own (synaesthetic) system for guiding such unwinding, in order to facilitate huge change without loss of biological integrity. In fact, I have really weird unwinding protocol which takes muscle fibres from, say, the upper body, and returns them to the "arm". This is the sort of muscle pattern mess that computer use causes, and which I can now undo. My unwinding protocol is based entirely on visuo-kinaesthetic ("see-feeling"; the right brain) sensing and has not been described anywhere else, to my knowledge. I would love to show this tech off — it truly is bizarre, yet cures problems in seconds, which other systems have been unaware of or, in any case, unable to treat.
I will have to wait to receive Myers' book and DVD to see what his opinion and recommendations are for such practice. Myers is one of the few people I actually respect, so I am happy to have him be the voice of experience (while meanwhile making my own theories and bombarding him with emails, as I have done with my other inspirations — Rupert Sheldrake is actually pretty cool, by the way 🙂 ).
Knots
Fascial winding as a model just doesn't cover it. Sorry, Thomas. While fascia is a "control system" for muscles, at the same time, if muscles are in a knot then that must be mechanically dealt with via pressure. There is a 1:1 relationship between knots and fascia, but in some cases the muscles cause the fascia distortion, not the other way around. (03/07/2015: Bullshit. Knots and fascial winding are the same phenomenon. A knot will typically occur where two "wound" systems intersect.)
The truth is, in my experience, that, as a hardcore computer user you will tend to find huge muscle knots in the vicinity of the major joints. In my own model, this is because the locus of motion of those joints has changed. So, rather than moving your arm from somewhere near your neck (where your body thinks your joint is, according to its own internal model), you have instead been moving your hand from a locus of motion somewhere near your upper arm — for example when moving the mouse for 10 hours every day. I believe you will find a "swirl" of muscle in this location, which shouldn't be there. These knots and swirls take on the role of a "substitute joint" — because you keep moving your arm from these loci due to computer use, and muscles tend toward compensation and adaptation always.
At the same time, having your legs spreadeagled beneath a desk every day since the age of four has moved their loci of motion to somewhere in the upper leg, south of the hip where it's supposed to be. This leads to tilted pelvis and the "bow-legged" look of modern, gurning man.
Major Knot Locations
Armpit, spreading into front of chest
Armpit, spreading into back
Upper arm/"shoulder"
Shoulder blades
Hip, spreading down into leg and up into body
Outer upper leg
Minor Knot Locations
Elbows
Knees
Groin
Possibly ankles
All along spine from base up into head
Probably everywhere else in the body
Knot Removal
The basic method of removing a muscle knot is to have constant firm pressure applied to the knot while breathing slowly, deeply and regularly. This seems to activate the nerves in those muscle fibres, and also separate them so they can "flow" back to where they're supposed to be. Breathing actually helps "feed" muscle fibres through, and is an essential part of the method. I tend to breathe through my mouth and nose simultaneously. I also sometimes imagine breathing "into" the knot, which seems to help it pull itself through more easily.
I cannot ethically advise you to attempt to remove knots yourself. I caused myself REAL problems by attempting this. There are REAL dangers to it, mainly due to sudden "remapping" of a muscle position in the brain's model. Get someone who knows what they are doing, e.g. a massage therapist, to do this for you. Don't try it yourself. Also, have it performed slowly over time, e.g. over several sessions with days in between, and do not rush — the body needs time to "remap" the moved muscle in its neurological model. The bigger the muscle knot, the more time will need to be taken to release it. Additionally, manipulating such knots DOES cause neurotransmitter release. These neurotransmitters, in my experience, tend toward adrenaline and generally unpleasant sensations and dysphoria. Generally, the process of knot removal is unpleasant and at times disturbing.
Removing huge knots, e.g. in the hip or armpit, causes HUGE biomechanical reconfigurations. This is generally a horrible experience. The body just thinks it is being injured the whole time. Even when done via a competent massage therapist, I still had "cotton mouth" from the adrenaline, and a dysphoria which sometimes lasted a couple of days. There is no such thing as a free lunch.
---
While I believe bodily correction is possible with less pain than Thomas Myers prophesies — and I believe my methods might be on the right track to forming such a solution with less pain — to get towards anything resembling "natural" or "primal", if you have been a hardcore computer user for many years, is extremely difficult. However, big gains can be made in a relatively short time period. My next task is to formalize how to make the biggest gains via the least trouble. I will write a post soon with a "modified shoulder roll" which will hopefully get hardcore computer users onto the right track. However, to truly fix oneself will require the kinds of crazies I have been discussing in this post — such as myofascial unwinding, knot removal, and a generally enhanced body awareness. I will be filtering such methods through to you over the next few weeks.
If you are impressed by my models and my teachings, simply remember that I am the Tathagata and I am the light — and all I ask is that you worship me.
Jokes. 😉